China deports Canadian nationals following pro-Tibet demonstrations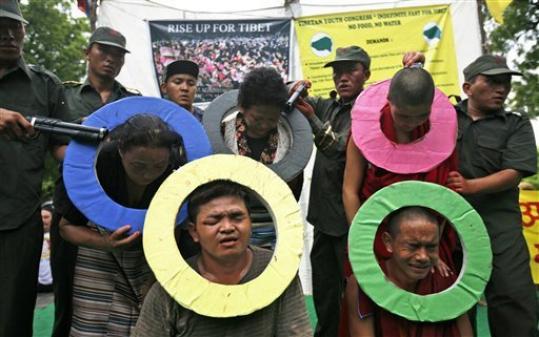 Toronto, Aug 11 : Several Canadian nationals have been deported from China following pro-Tibet protests in Beijing.
Steve Andersen, from Edmonton, and a Tibetan-German, was arrested by plainclothes police officers after they unfurled a Tibetan flag.
A short time after the arrests, Mike Hudema, a spokesman for Greenpeace in Alberta, was arrested with four other people from Edmonton.
"They came into our apartment. They ransacked our entire apartment, went through all of our bags, all of our luggage, despite the fact that we never consented to any searches," Hudema told CTV in a telephone interview.
"We were taken to the police holding facility and interrogated for several hours before we were deported," globeandmail quoted Hudema, as saying.
Hudema said that he and several members of the group were in Beijing to observe and did not take part in any protests.
Another Canadian, 24-year-old Chris Schwartz, was also reportedly deported from China.
Schwartz, a student at Montreal's Concordia University and a long-time member of the pro-Tibetan movement, was taken into custody after a mock "die-in" at Tiananmen Square to protest China's occupation of Tibet.
Wrapped in Tibetan flags, he and a small group of people covered their mouths with fake blood before denouncing the occupation.
Police quickly moved in and detained them. Most of the deported Canadians are either in Hong Kong or Laos and will eventually catch planes to Vancouver. (ANI)