Closure of Iranian human rights office "troubling"
Submitted by Sahil Nagpal on Tue, 12/23/2008 - 03:32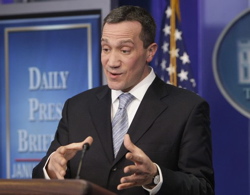 Washington - The United States criticized Iran's regime on Monday for shutting down the office of a human rights group led by Nobel-laureate Shirin Ebadi.
"It's troubling," said White House spokesman Tony Fratto. "We believe that these individuals are incredibly courageous to stand up in a society like Iran for the rights of their fellow citizens."
Iranian police on Sunday sealed off Ebadi's office in northern Tehran, alleging the group did not have a legal permit and was using the centre "as ground for propaganda against the (Iranian) system."
Ebadi won the Nobel Peace Prize in 2003 for promoting human rights and democracy in Iran, becoming the first Iranian and first Muslim woman to receive the honour.
Ebadi used the centre to host seminars and meetings with foreign press. (dpa)