Denmark to tighten rules for "tolerated stay"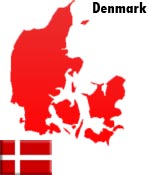 Copenhagen - Denmark was to tighten laws that allow foreign nationals to remain in the country even if they pose a security risk, legislators said Wednesday.
The amendments concerning "tolerated stay" were expected to pass this week. The deal was hammered out between the minority government and its parliamentary backer, the populist Danish People's Party.
Currently 18 people are in Denmark on so-called "tolerated stay," incuding a 37-year-old Tunisian national who is suspected of planning to murder a Danish newspaper cartoonist.
Despite convictions of serious crimes or posing a threat to state security they are allowed to stay since they face perscution or ill- treatment in their home country.
Under current terms they are barred from holding work or drawing benefits, and report regularly to the police.
The amendments say they must stay at a designated place and report daily to the police. A violation could result in a one-year jail term compared to the current fourth-month prison sentence.
Human rights groups and legal experts questioned the tighter rules saying the current legislation was sufficient.
Under the new rules, the Tunisian national would have to move from the northern city of Aarhus to an asylum centre north of Copenhagen.
He was one of two Tunisians arrested in February after the Danish security and intelligence service PET said it had uncovered a plot to murder cartoonist Kurt Westergaard who lives in Aarhus.
Karen Ellemann, member of the Immigration and Integration Affairs Committee, told local media that she was "certain" Westergaard would not risk meeting the person who threatened him with the new rules.
Westergaard's controversial cartoon of the Prophet Mohammed with a bomb in his turban was one of 12 images published in September 2005 by the Jyllands-Posten newspaper. The cartoons sparked worldwide violent protests in 2006. Many Danish companies were also boycotted in Muslim countries.
In August, the other Tunisian national arrested in the case voluntarily left Denmark. (dpa)