Dog races a major attraction for non-resident Indians in Punjab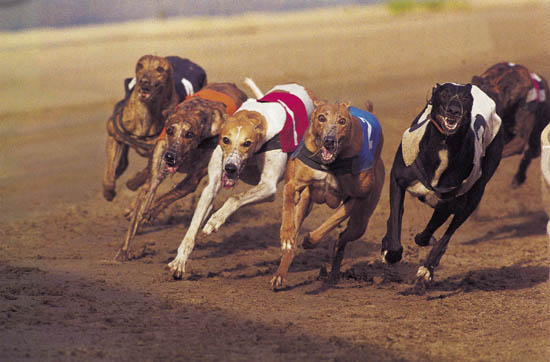 Nurpur (Jalandhar), Dec. 25 : Thousands of sports lovers converged here for two days to watch dog races at Nurpur village that have become a major draw for people from far off places of Punjab and abroad for four years here.
The special attraction of these dog races were the participation by different varieties of dogs, especially brought here by the non-resident Indians from abroad. It was fourth edition of the dog races this time.
Organised on Wednesday and Thursday, the dog race saw 106 dogs vying for the first place. About 60 per cent of them were flown here by their owners spending a whopping sum of rupees 40,000 for each dog.
"A total of 106 dogs participated in the races. Almost 50 per cent of them are from abroad. The NRIs are fond of the races," said Ranvir Singh Gill, the organizer of the dog competition.
The list included the best-imported pedigree from the countries like Canada, America and Ireland.
Meanwhile, the special attraction were Lithe and Lissome, the dogs who put up a splendid show.
The races held every year are witnessed people many of them who come from foreign countries like UK, USA, Canada to compete their dogs at the event.
"I came from Vancouver just to race dogs. I brought three dogs here and their price is worth 400,000 to 800,000 rupees and just came to race them. That''s my hobby," said Bhoola Singh, a dog owner from Vancouver.
The participating dog owners said that the event holds special significance for them, as it offers them an opportunity to showcase their pet for their special qualities.
The winning dog gets Rs. 51,000 (1,295 dollars) whereas the second runner up will get Rs. 31,000 (787 dollars) and Rupees 21,000 (533 dollars) each. (ANI)