Gehry brings his architecture home to Canada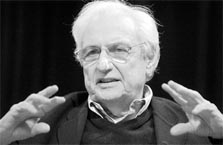 Toronto  - The Canadian-American star architect Frank Gehry, 79, on Friday saw the opening of his latest innovative contribution to world culture - the Art Gallery of Ontario.
After designing awe-inspiring structures around the world - including the Guggenheim Museum in Bilbao, Spain and the Dancing House in Prague - Gehry for the first time worked on a project in his native Canada.
Before the opening, Gehry spoke to Deutsche Presse-Agentur dpa about the long and often frustrating process of transforming and expanding Toronto's tradition-heavy Victorian landmark.
dpa: Where do you get your ideas?
Gehry: I once appeared in The Simpsons and told the story that I crumple a paper ball, throw it away and get inspired by it. But it doesn't happen all of a sudden, it's not like that I wake up and have a dream. Sometimes I do, sometimes it's that way. This project was a remodeling. So there were lots of bits and pieces I couldn't touch, lots of bits and pieces which maybe I like or maybe I don't like. There was a budget, and there were time constraints. And then it's an opportunity game where something happens and you do something with it, you make a choice - and it went like that all through. It was not ever one clean thought because the building is messy.
dpa: How important is it for you that the museum is in Toronto?
Gehry: Well, I grew up here till I was about 17 - so it is loaded with emotional stuff. My grandmother lived down the street. She used to go to a little wood shop at the next corner, she got the cuttings and sat with me on the floor (to) make houses and cities and stuff. I don't know why she did that - I just know it became kind of the thing in my life.
dpa: Are you happy with the museum?
Gehry: I am Jewish, so I am never really happy. (laughs) I am not that Jewish, so I am not that unhappy. But this is the worst time for me because you always think, "Shouldn't I have done this or that differently?" But people seem to like it so that makes me happy. I like the galleries, I think they are the best galleries I have ever done in my life and I am happy about them because a lot of the museum world thinks I only make (odd-shaped) galleries on purpose to (challenge) the artist but that's not true. I just don't like these box-white galleries, the Soho syndrome in New York. They have no soul in them. Neutrality degenerates the art. I feel our galleries have same juice in them. (dpa)