'I am wiser now'
Submitted by Mohit Joshi on Wed, 03/04/2009 - 14:03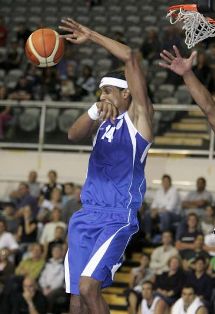 It's been three long years since he walked down the Indian Gymkhana basketball court here in Matunga. That's long enough to have forgotten the feeling of TeraFlex under your feet, the smell of the sultry coastal air, noise of a frenzied crowd chanting your name and much more. For Sozhasingarayer Robinson, India's basketball sensation, it was déjà vu the moment he stepped in to play his first match at the Ramu Memorial Basketball Tournament on Tuesday.
"To be honest, I was wondering if people would still remember me. Thought I would have to prove my worth again if I wanted some respect and regard. But I was overwhelmed when kids ran up to me for autographs. It was unbelievable. I felt like I was never away," an emotional Robinson said on the sidelines of meet.
Robinson, infamous for being banned from representing India and Tamil Nadu for one-and-a-half years for his differences with the Basketball Federation of India, lived under the tag of a 'rebel'.
"I quit the sport. I was really hurt. I didn't want to play the game again. Soon, there was a feeling of unhappiness. I knew I was missing something. You know, when you have something valuable, you don't know its worth," he said.
Gayatri Parameswaran/ DNA-Daily News & Analysis Source: 3D Syndication
Technology Sector