Import duty of 5% imposed on iron and steel products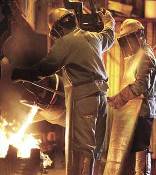 Bringing cheer to the industry and aiming at a marginal relief to the government revenues as well, the government on Tuesday slapped a 5% import duty on specified iron and steel products, and a basic customs duty of 20% ad valorem on crude soyabean oil. However, there is however no change in the import duty on refined soyabean oil.
The move aimed at safeguarding the interests of domestic industry came after a series of meetings between Finance Minister, P Chidambaram, and Prime Minister, Manmohan Singh, in the capital. It was long expected, more so since there has been a global softening of commodity prices, definitely on steel and crude oil. Most domestic consumers felt that the government should take swift action to ensure that domestic producers do not suffer. Steel shares gained momentum after the announcement of the imposition of the import duty. The BSE metal index was up by 3.14% in early trade. Steel Authority of India was up 4.2 percent at Rs 64; Tata Steel rose 3 per cent to Rs 169.7; JSW Steel traded at Rs 244.5, up 1 per cent; while Ispat Industries was up 1.9 percent at Rs 10.8.
Commenting on the duty cut, Steel Secretary, PK Rastogi, said the government will like to see the impact of 5% steel import duty for sometime, and added: "We will recommend a higher import duty on steel if needed." In fact, it is being understood that more export sops are also perhaps in the offing, as a part of fiscal stimuli.