It takes kids an hour's exercise to burn off a packet of chips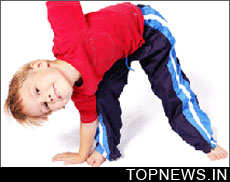 Melbourne, Apr 23 : It takes only few minutes for an eight-year-old to scoff down a small packet of chips. But guess how much exercise they''d have to do to work it off? Well, according to a new study, an hour.
The news is worse for children who make a meal of a burger, hot chips and a soft drink.
To use up that much energy, the Children''s Nutrition Research Centre has found an eight-year-old would need to spend nearly five hours running around or three hours on a bike.
Helen Truby, a dietician and a member of the centre, said: "It''s a really frightening amount."
"People don''t understand necessarily how much you have to do, and for how long, to burn off all that energy from one small meal," The Courier Mail quoted her, as saying.
"A lot of children are very sedentary. They''re spending much more time sitting around watching television, using computer games," she said. (ANI)