Kalavati's village in Himachal Pradesh adopts solar power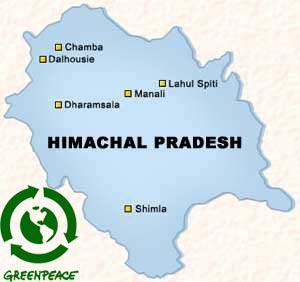 Jalka (himachal Pradesh), Mar. 30 : Greenpeace and the villagers of Jalka today celebrated the arrival of clean and reliable energy in two schools which set up solar panels to power 10 fans and a computer.
"Now my children have a future" said Kalavati, Jalka's most well known resident whose two daughters and two sons are among the 100 children who experienced accessible and reliable solar power.
"Our village was made famous in Parliament by Rahul Gandhi and still nothing had changed. Electricity when we need it has remained just a promise. I have witnessed how easily this solar panel was set up in just 3 days. We heard that Rahul Gandhi will be in Wardha from tomorrow. I would like to invite him to our village to witness and take this vision forward." said Sarpanch Anusuabai Kumbhre
"We are here to challenge the political class to think beyond the tested and failed attempts, at rural electrifications. The time has come to unleash an energy revolution and look at every citizen as an empowered producer of electricity and not just a passive beneficiary," said Maitree Dasgupta, Greenpeace Climate and Energy campaigner.
Twelve hundred residents of Jalka village enthused by the reliable energy option in their village, voted for this energy by signing up on the poster prepared by the school children demanding complete solar energy in the village. The 1.7 kWh and 280W panels in the Zilla Parishad school and the secondary school can power 10 fans and 2 computers respectively. "We put the fans on even when there was no electricity in the rest of the village" said a beaming Akshay, a 7th grader from the junior school.
"Technology made no sense in our schools earlier since there was no electricity to power them. Today, I am glad that our school can showcase a power cut free future", said Padmini, headmistress of Jalka Junior Zilla Parishad School.
"There are a million Kalavati's waiting for power. This is an opportunity to provide them reliable and clean power by building a new and pro poor energy infrastructure. We need to devolve policy making in the power sector by giving people in India a chance to choose their own destinies. This requires a bold political vision to usher in an energy revolution." said Siddharth Pathak, activist from Greenpeace. (ANI)