Kolkata media arranged farewell party for Dada
Submitted by Ashok Rao on Tue, 11/11/2008 - 01:08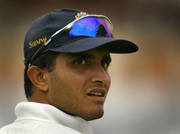 Members of the media community of Kolkata arranged a function on Sunday to honor cricketer Sourav Ganguly. Sourav has decided to take retirement from the international cricket after the conclusion of the India-Australia Test series, completing his 13-year cricket career.
Journalists across the city gathered here and honoured his contribution to the Indian cricket. They asked him to lead young cricketers from the state to glorify the name of West Bengal.
Sourav's wife Dona and daughter Sana were also present at the function.
Media hailed his role as a determined and committed player and congratulated him for his successful journey with distinguished achievements.
Ganguly, popularly known as Dada, expressed thanks to the people of the state for their love and support. He regretted that no one from West Bengal would represent the state after his retirement.
He said that success and failure are part of life of any professional cricketer. He asked young players from the state to take cricket as a challenge and create milestones with hard work and determination.