Ms. Patil Meets MPs, MLAs
Thiruvananthapuram: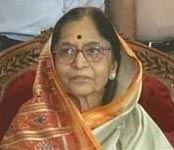 On Thursday, the UPA-Left parties' presidential applicant assured the State's MPs and MLAs that she would maintain the unity and power of the country.
Ms. Patil expressed disappointment at the campaign against her, while addressing MLAs and MPs meeting at Mascot Hotel, who are part of the electoral college of the presidential elections.
Ms Patil stated that she always liked Kerala known as Gods Own Country and was indeed happy to meet the MLAs and MPs.
The MLAs and MPs belonging to the UDF and the LDF attended the meeting.
Ms. Patil was flanked by Defense Minister A.K. Antony, Chief Minister V.S. Achuthanandan, and Union Minister of State for External Affairs E. Ahamed, Leader of the Opposition Oommen Chandy, Congress legislature party secretary Thiruvanchoor Radhakrishnan, KPCC president Ramesh Chennithala and AICC general secretary Veerappa Moily.
Earlier, Ms. Patil arrived by a special executive jet from Chennai.
The senior UDF and LDF leaders received Ms. Patil at the airport.