Pomegranate farming offers a new hope to farmers in Punjab
Submitted by Mohit Joshi on Sat, 12/27/2008 - 23:12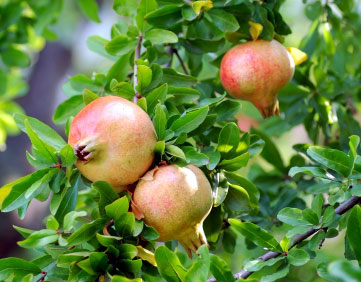 Abohar, Dec. 27 : Farmers in Punjab have taken to growing fruit crops like pomegranates instead of conventional crops like wheat and cotton.
Climatic conditions in Punjab are suitable for growing fruits, especially in the southwest region where Kinnow is grown extensively.
Gurvinder Singh, a farmer of village Kallerkhera, is happy with his new fruit crop - pomegranates. He once used to grow conventional crops like wheat and cotton. He now grows kinnow and pomegranates in his 45-acre farm.
Four years ago, Gurvinder planted `Mridula'' variety of pomegranates in seven acres of area. And, this year, his hard work has borne fruit.
Gurvinder''s success in growing pomegranates has motivated other farmers also to diversify. The State horticulture department and agricultural scientists, had no role to play so far, but it is expected that they would step in to encourage the farmers.
Today, Gurvinder''s pomegranates are known for their quality and can compete with the available fruits in the market.
"Earlier, we used to grow cotton and wheat, and then we started producing Kinnow in around 45 acres of land. Some two to three years back, the market for Kinnow was not very good. So due to the fear of the downfall in its market, we diversified by growing pomegranates," said Gurvinder Singh.
The suggestion to start pomegranate farming was made to Gurvinder by Dr. Arora, who used to produce sweet orange in the local university earlier. He told Gurvinder about Mridula, a pomegranate variety grown in Maharashtra ''.
Pomegranates are grown mostly in western and southern India, but the successful attempt by Gurvinder can make Punjab a pomegranate growing state.
Officials of the Horticulture department believe, pomegranate cultivation in the region could be a good development for all.
"We used to grow only Kinnows in the region following monoculture. To avoid monoculture if we start producing pomegranates, it will be a great success for the farmers. Pomegranates from Maharashtra and other states have a good market in northern India. We can give them a good competition by producing quality pomegranates in Punjab," said Tek Chand, an official with the Horticulture Department.
Pomegranates can be grown at comparatively less cost than routine citrus crops.
Gurvinder says: "We are producing about 12-13 kg fruit from one plant. We have planted 210 plants in one acre. We have produced 25-30 quintals of fruit per acre, which is selling at an average price of 20 rupees (approx. half a dollar) per kg. With that we are earning between 1,100-1,200 dollars per acre. We planted pomegranates in seven acres of land. The quality of our pomegranate is as good as that produced in Maharashtra."
Despite being an agriculture-dominated state, only one per cent of total geographical area in Punjab is under horticulture. Punjab now accounts for 10 per cent of the total citrus fruit produced in India.
But, by cultivating new fruits like pomegranates, Punjab can boost its percentage in the production of fruits. (ANI)