Punjab village embraces yoga for a healthy life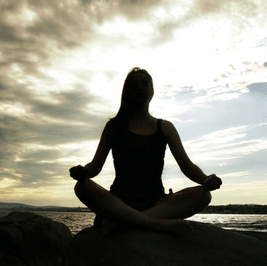 Ferozepur (Punjab), April 23: While Guru Baba Ramdev has revolutionized the concept of living a healthy life through Yoga across the country, a Punjab village has made it an integral part of its daily life.
Residents of Begawali village in Punjab's Ferozepur District are confident of staying healthy and protected from various ailments since they have taken to practicing yoga everyday.
Everyday, at dawn, villagers practice yoga. But it all started with a man named Lal Chand who first showcased the villagers the joy of practicing yoga and its effects in anyone's life.
Gradually, others joined him and started practicing yoga to cure various ailments.
Interestingly, all the villagers here started to learn yoga by watching it on television and through locally available books. There is no trained yoga practitioner here.
"We watch yoga guru Baba Ramdev on television. He tells 'yoga can keep the doctor away'. And as one does not fall ill by practicing yoga, the cost of buying medicines also comes down. Understanding its importance, a large number of people in our village have started practicing yoga. Earlier, the villagers were addicted to drugs and alcohol. Now, with yoga, they have got rid of all bad habits. Also, the liquor shops in the village have shut down," said Anil Kumar, village head, Begawali.
The villagers also keep fast once a week besides doing yoga everyday.
Residents comprising both the genders have shown equal enthusiasm. Everyone in the village agrees that yoga is one way of helping the body heal.
There are many success stories in the village where people have been cured for ailments by practicing yoga.
"I was suffering from backache and had pain in my knees. Now, with regular practice of yoga, I am much better. I have even stopped taking medicines. My weight has also come down from 68 to 60 kilogram, " said Raj Rani, a villager.
Many villagers maintain that yoga has made them feel energetic.
"Regular practice of yoga keeps the body active and fit for the whole day. Yoga has lots of benefits, as one avoids many diseases. The body remains healthy," said Lal Chand, a villager.
The villagers in Begawali are healthier and have imparting the mantra of yoga to youngsters. (ANI)