RCom Launches GSM Operations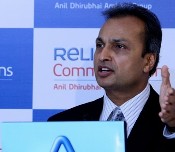 The Anil Ambani-led Reliance Communications has launched nationwide GSM services from December 31. The company is already operating almost all telecom circles with its CDMA services. The company would cover 11,000 towns and 3.40 lakh villages across the country by investing Rs. 10,000-crore in the field of mobile telephony. Reliance Communications has received spectrum to roll out GSM services in January this year and has set a record to launch services within a record low period.
The chairman of RCom, Anil Ambani said, "We are at least six months ahead of the schedule. We have achieved in 15 months what other operators have taken 15 years to achieve." The company would increase coverage to 24,000 towns and six lakh villages within the next few months. It has designed a plan worth thousand crores to cover all railway routes and National and State Highways.
Company's CDMA services maintain 60 million subscribers across the country, covering more than 20,000 towns and 4.50 lakh villages. It would also apply for the 3G spectrum auction in 2009 and reserves Rs. 2,000-4,000 crore funds to roll out the 3G services in the country. The company is already offering variety of value added services and VAS contributes about 10-20 per cent of its revenue. It has received flood of orders to use its infrastructure from new entrants, to offer 3G and WiMax services in the country. On the issue of floating IPO, Mr. Ambani said, "In 2009, as things hopefully improve and as we move to getting more GSM players as tenants, it will further improve Reliance Infratel's valuation. We will then look at raising capital."