Samsung announces its dual-SIM mobile phone "Samsung B5702"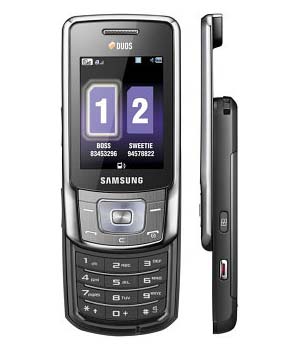 It's sleek and stylish slider phone; it's the phone that can work with two SIM cards at the same time; well, it's the new Samsung B5702 mobile phone announced by Samsung Electronics! The largest electronics company in the world - Samsung Electronics has unveiled its new dual-standby mobile phone, Samsung B5702.
Samsung has claimed that Samsung B5702 is the world's first dual-standby mobile phone to support quad-band connectivity. The phone features two LED lights to indicate which of two SIM cards is used for the incoming calls.
Sized 106 x 52.5 x 17.5mm - the metal finish, Samsung B5702 allows users to personalize their ringtones, screensavers and themes to help them know, which SIM card is working. The phone offers hot key on its side to facilitated switching from one SIM card to the other SIM cards
Samsung B5702 features a 2.4 inches TFT LCD / 320 x 240 (QVGA) 262K display screen, a 3 megapixel camera with auto focus offering excellent quality pictures, an audio player supporting MP3, AMR, AAC and WMA formats, Video recording supporting H. 263 + AMR, and MPEG4, FM radio with RDS (Radio Data System), Bluetooth 2.0 + EDR, and USB 2.0 high speed connectivity. The phone allows Web-browsing, e-mail access, supported by both SIM cards.
Samsung B5702 has internal memory of 50MB and an external memory expandable up to 8GB. The phone's battery offers talk time of up to 11.4 hours and standby time of up to 220.9 hours. The phone supports MS Office, PDF, BMP, TXT, PNG and JPG formats. According to Samsung, the B5702 mobile phone will be available in Russia and other markets in May this year. The company however hasn't yet disclosed the price of the phone.
Meanwhile, on Thursday, Samsung Electronics lodged a petition with the Intellectual Property Appellate Board
(IPAB), in which the company has asked IPAB to annul the patent on dual-SIM mobile phones issued to the Madurai-based Somasundaram Ramkumar, who registered his patent with Indian customs authorities earlier this year. One such petition was filed by Spice Mobiles Ltd last month. Several members of Indian Cellular Association
(ICA) are also planning to file petitions challenging the validity of the patent.