Samsung showcases new produces at CTIA 2009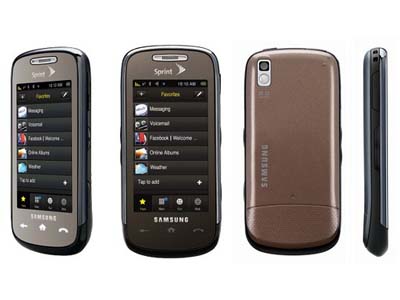 The world's largest electronics company – Samsung Electronics recently unveiled several of its new products at CTIA 2009 in Las Vegas. The Seoul, South Korea based Samsung showcased its Instinct S30, some AMOLED phones and its new Mondi Internet tablet.
Samsung Instinct S30, the successor of Samsung's popular Instinct (on Sprint), was unveiled for Sprint again. The new Samsung Instinct S30 shows a number of improvements over its predecessor Instinct. The phone features a 3.2? TFT LCD touchscreen (240 x 432), a 2 MP camera with autofocus, visual voicemail, and several multimedia capabilities. It also features Opera Mini 4.2 Web browser, which is fast browser for Sprint's EV-DO network. The will be released on April 19, in cobalt blue and copper colors. It will be available for $129.99 after mail in rebate and contract.
Samsung unveiled three new phones – Samsung Propel Pro, Samsung Impression and Samsung Magnet for AT&T. Samsung Propel Pro a tersely build, elegant looking phone encased in glossy gunmetal case. The phone uses Windows Mobile software – Windows Mobile 6.1 Standard. The Propel Pro features a screen with a resolution of 320 by 320 pixels, a miniature computer keyboard, which slides out from under the device, a smooth joystick, instead of an optical mouse, and Wi-Fi capabilities. The phone will be released on 14 April in the silver and chrome colors. It will be priced at $149.99.  
Samsung Impression is phone specifically designed for messaging fans. It's a messaging device. It's a Samsung TouchWIZ phone featuring bright and colorful TouchWIZ home screen, AMOLED technolog, and a 3 megapixel camcorder and camera. It has an active-matrix organic light-emitting diode screen that creates a particularly bright display. The phone will be released on April 7. It will be available for $199.99 / $249.99.
Samsung Magnet is a slim orange and black bar-shaped phone. The phone is designed to target young/teenage messaging fans interested in text messaging and a low-cost phone. It will use the basic AT&T setup for messaging, and it will feature a simple WAP browser. The company did not disclose the phone's price and launch date.
Samsung Mondi mobile Internet device (MID) certainly was one of the major attractions of Samsung's showcase. Samsung Mondi MID runs Windows Mobile 6.1; it will possibly get the WinMo 6.5 upgrade due late this year. It supports WiMAX only. It features a large, 4.3-inch touchscreen. The company did not disclose the Mondi MID's price and launch date.
Samsung also showcased Samsung S8300 UltraTouch, which has recently been launched in India. The Samsung S8300 UltraTouch is a smart-phone packed in brushed metal frame. It features a scratch resistant 7.2 cm wide AMOLED touch-screen, 8MP camera, and 3x4 sliding keypad. The phone is 3G capable and provides high speed internet access, video telephony, video streaming and DivX video player support, and multimedia features. The phone has 80 MB in-built memory and provides support for Micro SD cards up to 16GB. It is priced at Rs 27,500 in India, and it will be available for about $499.95 for the rest of the world.