Shooting of Mani Ratnam's 'Raavan' resumes after forest row
Submitted by Ashok Rao on Fri, 11/07/2008 - 00:07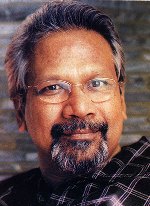 After running into trouble with the forest officials for violating agreement with the Kerala Forest Division, Mani Ratnam has finally begun the shooting schedule in Kochi, for his film 'Ravana', starring Abhishek and Aishwarya Rai-Bachchan in lead roles.
The multilingual film, for which Abhishek shed his weight, and got his hair trimmed to give the character a real feel, is being shot in the forests of Malayatoor - a prime spot for eco-tourism.
According to sources close to the film the forest officials had given Mani Ratnam's team to shoot for 20 days in the well preserved eco-tourism spot.
However, the trouble began when a forest official found out that the crew had constructed temporary huts in prohibited areas in the forest to protect their equipment from rains. Since construction of any kind in the area is prohibited, the officials asked Mani and his team to leave the area, thereby stalling the film abruptly.
As it was very important for Mani to shoot in that area, with the film requiring those shots, Mani did many rounds of the forest department, and consistently pursued the forest officials to allow him to re-start the shooting.
After a lot of persuasion, the forest officials came around and granted Mani the permission to shoot for his film.