Sixteen important medieval graves discovered in Cyprus
Submitted by Mohit Joshi on Thu, 11/13/2008 - 19:12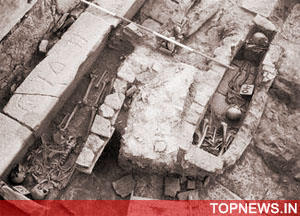 Nicosia (Cyprus), Nov 13: The Antiquities Department of Cyprus has uncovered sixteen important medieval graves during excavations at the 12th century Georgian monastery near Gialia village in the Paphos district.
According to a report in Cyprus Mail, the graves, dating from between the 14th and 16th centuries, were found on all four sides of the monastery.
The graves contained clay ware and glass vessels with Greek and Georgian inscriptions on some of the items, according to the Antiquities Department.
"Excavations resulted in the recovery of 29 coins of the 14th to 15th century, a large amount of glass vessels, objects of various use made of iron, bronze, stone and bone," an announcement by the department said.
"The structural design of the monastery and excavated material are of great importance for the study of Georgian-Cypriot relationships in the Middle Ages," it added.
The Georgian mission has been excavating the deserted Georgian monastery for three years.
The excavation is co-organised by the Georgian Ministry of Culture, Protection of Monuments and Sports and the Department of Antiquities in Cyprus.
The aim of the excavation was the study of the area around the monastery, where the archaeological finds contemporary with the monastery were expected.
The excavation results, in combination with existing written accounts referring to the Georgian presence in Cyprus, shows that the Georgian monastery in Gialia was founded on the initiative of King David III Kuropalate (963-1001AD).
The Georgian monks that peopled the monastery ordered and commissioned the building of the monastery to local builders who followed Georgian architectural plans.
The Gialia monastery was very rich and always under the protection of the Georgian kings.
Important additions to the building occurred both during the reign of David IV Aghmashenebeli (1089-1125) and during the reign of Queen Tamara (1184-1210).
During these periods, the two chapels were attached to the Katholikon, one of which was dedicated to Saint George.
Between the 11th and the 15th centuries, the monastery of Gialia functioned as a workshop for the transcription of manuscripts, and many books were written and translated from Greek to Georgian.
The Monastery was abandoned towards the end of the 16th century, following the Ottoman conquest of Cyprus. (ANI)