U2's Edge is glad Bono ignored his advice not to discuss Africa's poverty with Bush
Submitted by Mohit Joshi on Fri, 02/20/2009 - 19:07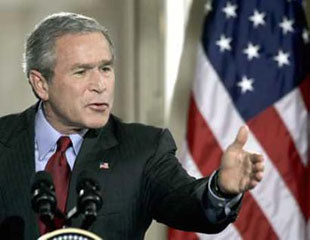 London, February 20 : U2 member The Edge is glad that frontman Bono ignored his advice not to meet former U. S. President George W. Bush to discuss poverty in Africa.
The rocker, whose real name is David Evans, has revealed that he was of the opinion that Bono would have "custard pies" thrown at him for holding talks with the controversial Republican in a bid to ease the plight of less economically developed nations.
However, he says, he is happy that the Beautiful Day singer proved his critics wrong.
"Hanging out with George W. Bush - which he knew was uncool, deeply unpopular in certain quarters - he knew for his own reasons that it would get results. And he was right. The amount of extra American investment in African development that occurred during that administration, compared to even the Clinton administration, was huge," the Daily Star quoted him as telling music magazine NME.
"A large part of why that happened was because Bono was willing to be in the photographs, take the meetings and make it a popular issue.
"I mean, I tried to talk him out of meeting George W. Bush when he told me he was going to do a photograph with him. And he said, ''Well, I think it''s the right thing to do''. So, in the end, I kind of just said my piece and let him get on with it.
"You have to understand that the man actually wants to save people''s lives! But anyway, he was right. He proved me wrong... again!" he added. (ANI)