US economic policy is the "road to hell," Topolanek says
Submitted by Mohit Joshi on Wed, 03/25/2009 - 18:38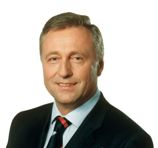 Strasbourg, France - The United States' decision to pump ever-larger sums into its economy is the "road to hell," the holder of the European Union's rotating presidency said Wednesday, just a week before he was set to meet the US president in London.
The US is repeating the mistakes of the 1930s and has chosen the "road to hell" in the process, said the Czech Republic's fallen prime minister, Mirek Topolanek, the morning after his government failed a vote of no confidence by the narrowest of margins.
The vote throws into question not just the Czech presidency of the EU, but a bilateral agreement to host US anti-missile radars on Czech soil - a deal which has polarized Czech opinion.
Topolanek took a strong stance against US economic plans as he addressed the European Parliament, calling the EU's rejection of US calls to go beyond the
400-billion-euro (543.8-billion- dollar) stimulus package it agreed in December "a clear success."
The Czech premier was speaking just a week before he is set to represent the EU at a summit of the Group of 20 (G20) leading economies in London on April 2 - a meeting which US President Barack Obama is also expected to attend.
That meeting is set to be followed three days later by an informal EU-US summit in Prague.
Topolanek said that the EU-US summit would focus on the outcome of the G20 meeting, climate change and a joint strategy for dealing with Afghanistan, Pakistan and the Middle East.
But he warned listeners not to expect too much from the summit, saying that the US president "is not a Messiah."
Despite the fall of his government, most analysts expect Topolanek to remain in office until the end of the EU presidency on June 30.
He said that the fall "will not threaten the presidency." (dpa)