Yoga can help beat economic recession, claims Ramdev
Submitted by Mohit Joshi on Wed, 03/18/2009 - 17:48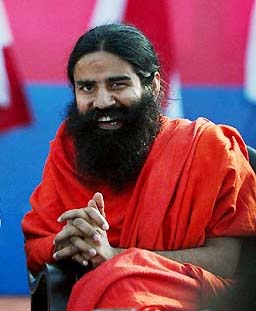 Mumbai, Mar 18: Yoga Guru Baba Ramdev has urged stock traders in Bombay Stock Exchange (BSE) to work for self and country to help beat current economic recession.
Ramdev, who held a special yoga camp for the employees of BSE, said that these are not the times to sit back, but to stand on one''s feet and work towards a better living.
He added that yoga teaches people the values of a good work culture and that will help people have a prosperous life.
"Yoga will teach you that work is religion, work is worship and sitting idle is a sin. When we work towards attaining goals of our life, we would be able to sail through all economic crises. When we understand that working and doing business is a religion in itself and working for the betterment of our country is also our responsibility, all of us would be happy," said Ramdev.
Ramdev also urged the citizens to weed out the corrupt politicians and vote them out in the forthcoming general elections.
"Corrupt politicians ruling over millions of honest people is an insult in itself. I urge political parties to be careful in selecting their candidates, but in case, they are not able to do that, then the citizens of this country will unveil these dishonest, corrupt, characterless and illiterate as well as uneducated people. I ask you all to ensure 100 per cent voting and elect good leaders," he said.
Ramdev has been campaigning for the ''miracles of yoga'' and against many evils in the society. (ANI)