Ahern hands in resignation as Irish prime minister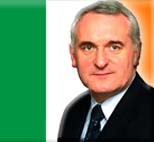 Dublin - Irish Prime Minister Bertie Ahern handed in his resignation to President Mary McAleese Tuesday evening, marking the end of 11 years at the helm of Irish politics.
Ahern announced his resignation at the beginning of April amid questions about his personal finances.
He promised at the time that he would honour two outstanding official duties: an address to both houses of the US Congress, which he made on April 30, and the opening of a historic battle site with Northern Ireland First Minister Ian Paisley, which he carried out earlier Tuesday.
Ahern has been lauded on both sides of the Atlantic for his crucial role in delivering peace to Northern Ireland, where a power- sharing executive between rival Irish nationalists and British unionists ended decades of sectarian conflict one year ago.
"After so many decades of conflict, I am so proud ... to be the first Irish leader to inform the United States Congress: Ireland is at peace," Ahern said during his address to Congress last week.
Ahern also presided over the most prosperous period in Irish history, which saw the small republic of just over 4 million people rise to one of the wealthiest in the European Union from being among the poorest.
However, he departs from the prime minister's office under a cloud of suspicion.
For over a year now Ahern has been plagued by the investigation into his personal finances under a tribunal set up by his government in 1997 to look into planning irregularities.
Ahern has admitted receiving money but says the cash represented political donations or money from his friends to help with legal bills after his marital separation.
He has always denied doing political favours in return for cash and no evidence has emerged to contradict this.
Ahern said he looks forward to defending his reputation at the tribunal and expressed confidence that "the tribunal will find that I have not acted improperly in anyway."
The current finance minister and leader of the ruling Fianna Fail party, Brian Cowen, was due to be confirmed as the new prime minister in a parliamentary session on Wednesday afternoon. (dpa)