Catholic and Muslim leaders meet for historic talks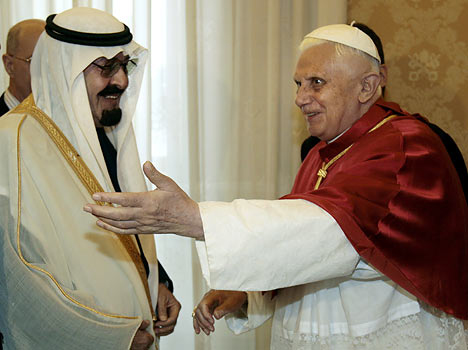 Vatican City - Top Roman Catholic and Muslim clerics and scholars began Tuesday historic talks in Rome aimed at defusing tensions between Christianity and Islam.
The talks are part of an initiative by moderate Muslim individuals and groups that began in the wake of the violent protests in the Islamic against the publication in a Danish newspaper in 2005 of cartoons depicting the prophet Mohammed.
They are also fruit of a gradual rapprochement between the Vatican and Muslims since Pope Benedict XVI's controversial 2006 speech in Regensburg, Germany in which he appeared to associate Islam with violence.
Benedict is scheduled to receive participants on Thursday following the last session of the three-day talks which take place under the theme "Love of God, Love of Neighbour."
The meeting of Christians and Muslims on such a topic goes beyond issues "of good neighbourliness, they involve the future of humanity," the Vatican's newspaper, L'Osservatore Romano, said ahead of the talks.
The two delegations, each made up of 29 participants are meeting as the Catholic-Muslim Forum, the formation of which was announced in March when a delegation of Muslim representatives from the moderate A Common Word grouping, visited the Vatican.
The Vatican invited the group, following the release in 2007 by 138 high-profile Muslims, of a letter addressed to Christian leaders, in which they called for greater co-operation on achieving peace.
Heading the Vatican delegation is Cardinal Jean Louis Tauran, President of the Pontifical Council for Interreligious Dialogue while his Muslim counterpart was the Grand Mufti of Bosnia, Mustafa Ceric.
The Muslim group's spokesman, a scholar of Islam from Turkey, Ibrahim Kalin, told L'Osservatore Romano there was a need for Christians and Muslims to overcome mutual "scepticism."
There is a need for followers of each religion to "conquer diffidence," and "move beyond tolerance," Kalin.
Tauran, in a interview ahead of the talks with the French Catholic newspaper La Croix, reiterated the Vatican belief that relations with Muslims must be based on "reciprocity."
This, the Cardinal said, can only be achieved if Christians and followers of other faiths are allowed freedom to practice their religion in Muslim-dominated nations. (dpa)