Jitender and Vijender Kumar enter quarterfinals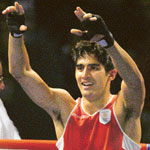 After First Ever Individual Gold medal won by Abhinav Bindra, Indians can be proud for the Indian boxers, Vijendra Kumar and Jitender Kumar. Both the boxers have landed in the quarterfinals for their respective categories. On Saturday, both of the tough fighters displayed a flawless performance at the Worker's Gymnasium in Beijing.
It seems that the ambitious Indian boxers will live up to their promise to get the medal in the Olympics.
 
On Friday, Akhil Kumar advanced to the quarterfinals, and all he needs to get the medal is to win one more game.
With three Indian boxers in quarterfinals, it seems that India can add more Gold to its Olympic medal tally. The first ever gold medal at Olympcis was won by the awesome rifle shooter Abhinav Bindra on the very third day of the competition.
In the last bout of the day, Vijender, who is the bronze medalist from the Asian Games, was the last to advance, defeating Angikhan Comphuphuang from Thailand with 13-3 win in the 75 kg middleweight class.
Vijender, who had displayed a steady start in the first round itself and was in the lead with 2-0 points, enhanced in his performance and reached 6-1 by the second round. By the third round, he was right at the top by 10-1 points.
Vijender is all set to face Carlos Gongora of Ecuador in the quarterfinals. Gongora earlier had defeated Georgios Gazis of Greece by 12-1.
Before Vijender had made into the quarterfinals, Jitender Kumar also exhibited tremendous efforts in the afternoon session and had a proud victory against Tulashboy Doniyorov of Uzbekistan with 13-6 in the pre-quarterfinals in the section of flyweight.
Jitender adopted a good and strong technique and planted some heavy punches in his defense against Uzbek pugilist, who seemed more interested in playing wrestling than boxing and often held the 20 year old Indian to bring him down.
The boxer showed really consistent performance, when he took the lead with 4-1 points by the first round. He did it with sharp and straight punches and uppercuts aimed at the body. By the end of the second round, Jitender was leading by 5-1.
The Uzbek boxer was warned by the referee for holding which added two penalty points for Jitender leading him 8-1 points. The match was won when the Indian boxer made it till 11 while Doniyorov could only fetch two points, including two penalty points against Jitnder for head-butting.