Kate Winslet 'good friends' with ex-hubby Jim Threapleton
Submitted by Kiran Pahwa on Sun, 12/21/2008 - 15:27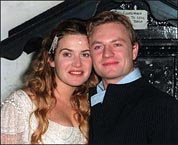 London, Dec 21: Kate Winslet's ex-husband Jim Threapleton has revealed that he and the actress are "good friends".
Threapleton, 34, who now lives in northern London with his new wife, special needs teacher Julie Vuorinen.
He has said the couple is at a good stage in their relationship, and he gets on well with her current husband, director Sam Mendes.
He flies to New York once a month to spend time with Mia, his daughter from his marriage to Winslet, 33.
Threapleton even stated that Sam is a wonderful father figure to Mia.
"He is a fantastic person to be in Mia''s life," The Telegraph quoted Jim, as saying.
"Sam and I went out for a few beers together very early on to make sure there was no stand-offishness. No one wanted a situation where I''d pitch up in a car and honk the horn and wait for Mia to be delivered," he added.
Jim, who is expecting a baby with his new wife, revealed that Kate is a great mother.
"There was a very amiable attempt to find a new future for all of us, which isn''t an easy thing to do, but I''m proud of what Kate has done with Mia and what we do collectively," Jim said.
"I think the assumption was that there''d be vitriol between Kate and me for years. But there isn''t, and there hasn''t been. It''s an evolution, but I think we''ve got to that good stage of friendship," he added. (ANI)