Manmohan Singh meets chiefs of defence service
Submitted by Mohit Joshi on Sat, 11/01/2008 - 21:41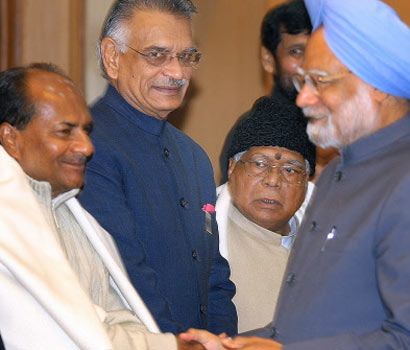 New Delhi, Nov 1 : Prime Minister Dr. Manmohan Singh met the chiefs of the three wings of the defence service - the Army, the Navy and the Air Force – in New Delhi on Saturday.
Dr. Singh and Defence Minister A. K. Antony met Navy Chief, Admiral Sureesh Mehta, Fali H. Major, Chief of India''s Air Force and Deepak Kapoor, Chief of the Army Staff.
The chiefs met to review and to address matters of national security on the day of the combined Commanders'' Conference.
The four-day event that began today is an intense intellectual exercise in deliberating upon various issues at the military, strategic and operational levels.
The Conference also provided an opportunity for interaction of the Army Commanders and the Principal Staff Officers with the key officials of the Defence Ministry. (ANI)